Federal Reserve Will "Proceed Carefully" Regarding Rate Hikes, Powell
August 28, 2023, from Floor Focus FloorDaily News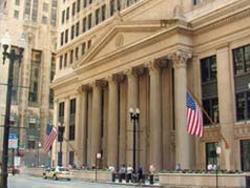 New York, NY, August 28, 2023-"Federal Reserve Chair Jerome Powell argued for holding interest rates steady for now, but kept the door open to raising them later this year if the economy doesn't slow enough to keep inflation declining," reports the Wall Street Journal.
"Powell's heavily anticipated address at the Kansas City Fed's annual symposium underscored how he is trying to thread the needle between restraining the economy enough to reduce price pressures without throwing it into a needlessly severe slowdown.
"Powell twice said the Fed would "proceed carefully" in any further move, signaling he saw little urgency to raise rates at the central bank's next policy meeting in September.
"'Given how far we have come, at coming meetings we are in a position to proceed carefully,' as officials 'decide whether to tighten further or, instead, to hold the policy rate constant and await further data,' he said in delicately scripted remarks.
"Powell noted recent signs the economy might not be slowing as officials expect. They have anticipated inflation to decline further because they expect the economy to grow below its long-run trend of around 2% over the coming year.
"Powell said additional evidence that the economy might instead grow above that trend rate 'could put further progress on inflation at risk and could warrant further tightening of monetary policy.'"