Consulting Services for the Ceramic Tile and Stone Industry
Ceramic Tile And Stone Consultants, Inc. (CTaSC) is a full-service company, providing the ceramic tile, natural and manufactured stone, glass tile, brick and terrazzo industries services in:
Our services are conveniently provided throughout North America and internationally.  There are local CTaSC Inspectors located  in or near most major cities in North America.
Professional Consulting Company
We are a professional consulting company led by industry expert Donato Pompo and made up of accomplished ceramic tile consultants, stone consultants, ceramic tile and stone installers, architects, engineers, general contractors, construction scientists and other industry specialists.
Leading Expert in Tile and Stone Industries
As the leading expert in the tile and stone industries, CTaSC has demonstrated success in working with attorneys, insurance companies and insurance adjusters, developers, general contractors, subcontractors, manufacturers, homeowner associations and individual owners.
Considering CTaSC's substantial credentials, and their extensive experience as investigators and expert witnesses, CTaSC has proven to be very effective in working with clients and their attorneys to resolve their problems.
CTaSC performs inspections on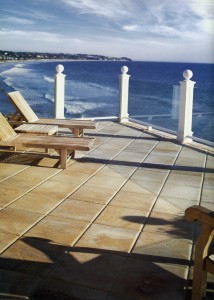 floors, walls, countertops
showers, bathtubs, steam rooms
swimming pools and spas
exterior/interior veneers
malls, hotels, office buildings
commercial kitchens and industrial flooring
exterior decks and balconies
fireplaces, fountains, patios, walkways, and other types of installations
We have expertise in all types of tile, stone, clay and glass products including ceramic, porcelain, quarry, terracotta, terrazzo, granite, marble, limestone, slate, travertine, sandstone, onyx, brick, pavers, glass mosaics, etc.
CTaSC specializes in investigating, remediating and specifying high-risk applications such as exterior veneers, ceilings, exterior decks over occupied space, showers, steam rooms, swimming pools and spas, commercial kitchens and industrial flooring.
CTaSC provides architectural specifications, testing and quality control services to help ensure successful tile and stone installations.
Education
We are also leaders in online ceramic tile and stone training through the University of Ceramic Tile and Stone (www.uofcts.org), or UofCTS. Tile and stone installers, showroom salespeople, customer service personnel, outside sales representatives, interior designers, architects and anyone who wants to learn about tile and stone can benefit from our in-depth courses. The UofCTS also provides hands-on, classroom and on-site training, and we can customize online courses for your company showcasing your products.
Business and Marketing
CTaSC provides business planning and marketing services for companies who want to develop or expand their business into North America or who want to introduce new products to the tile and stone industries.
CTaSC authors and publishes industry research reports on the ceramic tile, stone, and floor covering industry.
You can trust CTaSC with your ceramic tile, natural stone, manufactured stone, glass tile, terrazzo and brick projects!