Litigation and Insurance Claims Investigation Services
Over the last 19 years, Ceramic Tile And Stone Consultants (CTaSC) has worked with most of the major U.S. insurance companies and law firms representing both plaintiffs and the defendants in construction defect and personal injury cases.
CTaSC has investigated and represented various parties in water loss incidents, personal injury cases that involve slip and fall incidents as well as work related injuries. Other investigations include tile and stone failures in showers, swimming pools, exterior veneers, exterior decks, and other interior and exterior floor and wall applications.
If we can be of assistance, please fill out our form, below.
CTaSC Expertise
As the leading expert for ceramic and porcelain tile, glass tile, glass block, stone, terrazzo, and brick in North America, CTaSC has proven to be very effective in working with insurance adjuster clients and their attorneys to help resolve claims.
Team expert, Donato Pompo, has been designated as an expert witness on well over 100 cases throughout the United States and in Canada and has testified in numerous depositions and trials.
Donato is a certified construction document technologist, a certified microbial remediator, as well as a tile and stone expert. He has performed many investigations and provided remediation recommendations and installation specifications for many tile and stone projects throughout North America.
For Free Advice go to Expert ANSWERS at https://ctasc.com/expert-answers-overview/
 Learn More: 
Investigation and Expert Witness Fee Schedule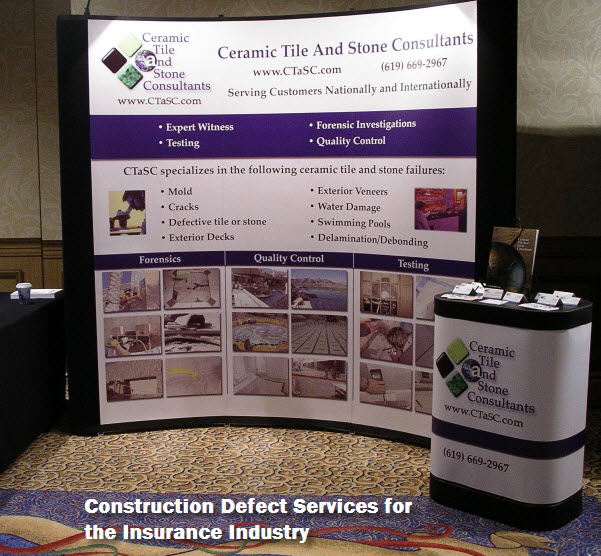 Failure Inspections

Forensic Investigator
Expert Witness
Read More

Quality Control

On-site Inspections
Installation Specifications
Read More

Training Programs

U of CTS Online Courses
Live Training
Read More

Testing
Product Testing
Forensic Testing
Read More

Business Planning
Market Research
Industry Reports
Read More