The US market 2023, a year of cooling off
The negative forecasts related to housing starts and home remodeling activity indicate a most probable slowdown of US ceramic tile market in 2023.
I do not believe the global slowdown in 2023 will be as severe as some economists think nor that the US economy will fall into a full recession, although a slowdown is already apparent in the first quarter of 2023.
When trying to develop a forecast for the US building market, there are three indicators that tell the story with the most accuracy. The first is housing starts, which historically has always influenced the ceramic tile industry. With the increasing interest rates, we are already experiencing a decline in new home starts.
The second indicator is the Leading Indicator of Remodeling Activity (LIRA), which measures short-term trends in national spending for improvements and maintenance to owner-occupied homes. This indicator provides a true measure of remodeling activity within the United States, although it is difficult to determine how much of the traditional remodeling that we would have seen in 2023 was actually completed in 2021 and 2022 due to projects being brought forward, a trend driven by homeowners working from home and government subsidies. Another factor that has motivated homeowners to remodel is the soaring prices of new homes, which together with high interest rates means that many first time buyers and homeowners who want to upgrade to new homes find them unaffordable.
As can be seen in fig. 1, the LIRA projects a steep deceleration in annual gains of home renovation and maintenance spending from 16.3% at the close of 2022 to just 2.6% by year-end 2023.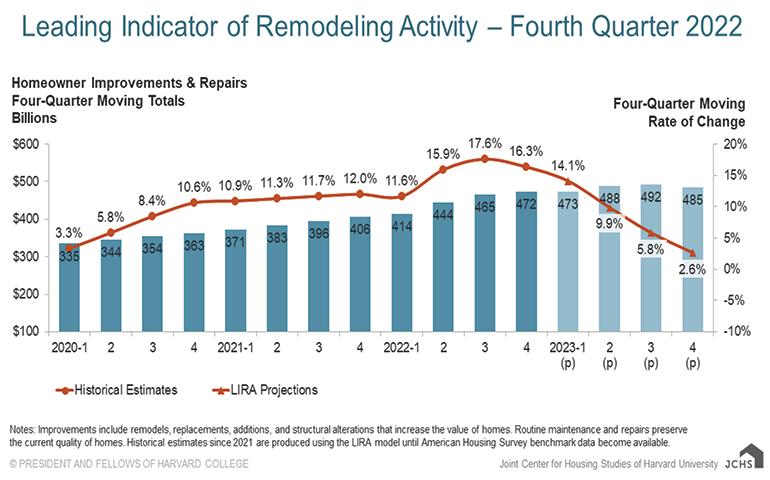 Lastly, the Architectural Billings Index produced by the American Institute of Architects (AIA) is a useful indicator of future investment trends in commercial activity and showed signs of improvement as early as December and January (fig. 2). While the downturn in design activity extended to four months in January (values below 50 indicate a negative trend), the upward curve indicates a slight improvement. In particular, architecture firms reported that new project work has begun to increase, signifying that this decline in billings may reverse in the coming months.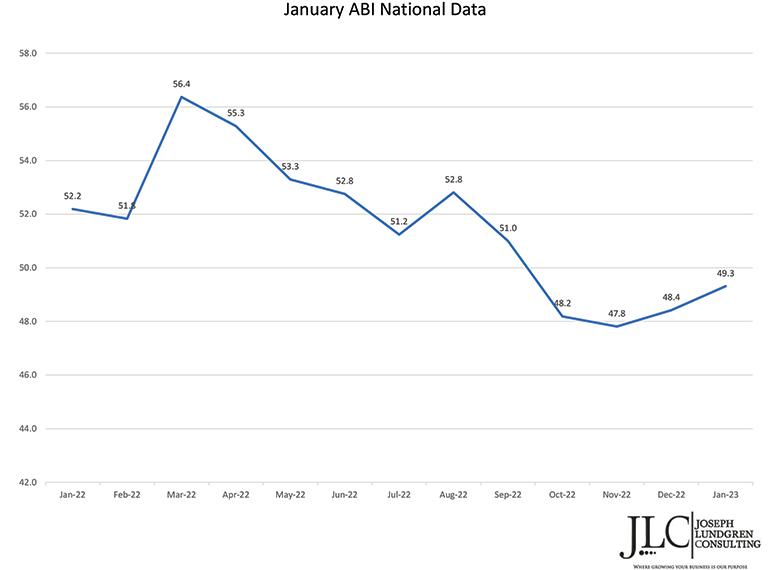 The US floor covering industry
As can be seen in fig. 3, the US market is continuing to move from carpet to hard surfaces. However, Luxury Vinyl Tile (LVT) continues to grow due to its low cost of installation and the fact that it is declared waterproof.
If all economic indicators continue as forecast, we will see a decline in volume of tile sales in the USA in 2023 (fig. 4) but an increase in value sales (fig. 5) driven by higher import costs, which account for approximately 71% of consumption in the US.
Amid all the uncertainty in the global economy, the US remains a very consistent and stable economy and is expected to bounce back as soon as inflation starts to decline and the Federal Reserve lowers interest rates (possibly in Q4 2023).