Mohawk Industries reports positive 2022 results despite slowdown
The US flooring giant posted 4.8% growth in the 2022 financial year with total net sales of $11.7 billion. The Global Ceramic division's sales grew by 10% to $4.3 billion.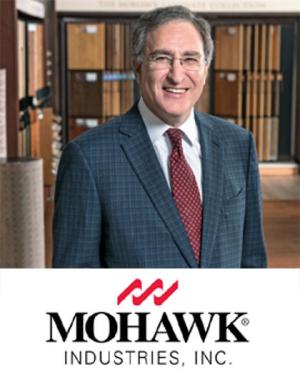 Following higher than expected growth in 2021 (17.3% up on 2020), Mohawk Industries reported a slight slowdown in the 2022 financial year. This is hardly a surprise given the inflationary pressures present in many markets coupled with higher energy and raw materials prices and rising interest rates.
While Mohawk's performance in the third quarter of 2022 remained steady despite signs of weakness, net sales for the fourth quarter declined by 4% as reported (1.3% on a constant currency and days basis) to $2.7 billion.
Thanks to a strong first-half performance, however, the flooring giant posted 4.8% growth in the 2022 financial year (8.8% on a constant currency and days basis) with net sales of $11.7 billion compared to $11.2 billion in 2021. By contrast, net earnings fell to $25 million ($823 million excluding restructuring, acquisition, and other charges) from $1,033 million in 2021 (or $1,027 million adjusted net earnings), and operating income fell from $1,335 million to $244 million.
"After a strong beginning to 2022, the US housing market declined under pressure from rising interest rates and high inflation. In Europe, energy and overall inflation escalated, and consumers reduced discretionary spending to pay for essentials," commented Jeffrey S. Lorberbaum, Chairman and CEO of Mohawk Industries. "With lower home sales and residential remodeling in the second half of the year, our flooring volumes decreased. Throughout the year, commercial new construction and remodeling activity outperformed residential."
As for M&As, during 2022 Mohawk acquired 5 small bolt-on businesses that extend the scope of its product offering and distribution. In February 2023, it completed the acquisition of Elizabeth and is awaiting regulatory approval for the acquisition of Vitromex in Mexico. The two companies will almost double the group's local market positions, expand its customer base and product offering and improve its manufacturing capabilities.
Global Ceramic was the only segment to deliver growth in the fourth quarter
In the fourth quarter, the Global Ceramic segment delivered a 4% increase in net sales as reported to $987.7 million (5.2% on a constant currency and days basis). The segment also reported a good operating margin of $69 million (compared to $60 million in Q4 2021).
In the United States, ceramic sales and volumes both increased due to the premium product offering, price increases and growing countertop business. To support additional growth in quartz countertop sales, the group is preparing to increase manufacturing capacity by the end of 2023. As Lorberbaum explained, the boost came from the commercial business, which is much more dynamic than the residential channel. The ceramic business in Europe remains under pressure due to slowing demand and customer inventory reductions. Mohawk is completing the expansion of its large porcelain slab manufacturing lines in Italy to support continued growth in this area.
Sales in both Mexico and Brazil decelerated in the quarter and the group has reduced production levels in response to anticipated continued near-term weakness.
Overall, in 2022 the business unit generated double-digit sales growth (+10%) to $4.3 billion compared to $3.9 billion in 2021.
By contrast, the other two segments experienced a decline in the period October-December. The Flooring North America segment's sales fell by 6.8% to $946 million (compared to $1,015 million in 2021) while those of Flooring Rest of the World declined by 9.9% to $717 million ($795 million in 2021).
The decline in sales volumes has prompted Mohawk to take restructuring actions in both business segments. Although well below the levels of the Global Ceramic business, the two segments nonetheless maintained year-on-year growth of 2.2% and 1.7%, respectively.
Given the positive price trend, the CEO expressed a sense of confidence and optimism, stating: "During the quarter, energy and material costs around the world began to decline, which should positively affect our 2023 results."
Forecasts favourable from Q2 2023 onwards
Mohawk Industries still expects to experience some market headwinds in the first quarter of 2023 and will not raise production in the first quarter as it did in the past to avoid generating unabsorbed costs. The estimates for the second quarter, on the other hand, are more favourable. Lorberbaum commented: "Our second quarter results should have sequentially stronger improvement, while lower material and energy costs in Europe should enhance consumer spending. We are introducing innovative new collections and merchandising as well as utilizing targeted promotions to improve sales."
In the long term, the global demand for housing will require significant investments in new construction and remodelling. While the Calhoun-based group is managing the present economic cycle, it is operating with a long-term perspective and expanding capacity in areas with the greatest growth potential, including LVT, laminate, quartz countertops, porcelain slabs and insulation.
"We anticipate coming out of this downturn in a stronger position as we benefit from our bolt-on acquisitions, enhanced market positions in Brazil and Mexico and strategic expansion of our high-growth product categories," concluded Lorberbaum. "Our balance sheet is well positioned to manage the current cycle and to drive future growth and profitability."