Natural Stone Slab Market Size, Share & Trends Analysis Report By Product (Limestone, Granite, Travertine), By Region (North America, Europe, Asia Pacific, Central & South America), And Segment Forecasts, 2023 – 2030
February 16, 2023 From Research and Markets
Report
103 Pages
January 2023
Region: Global
Grand View Research
ID: 5734501
The global natural stone slab market size is expected to reach USD 69.19 billion by 2030, expanding at a CAGR of 4.7% over the forecast period. This growth can be attributed to the gaining traction in construction applications owing to its superior strength, enhanced physical properties, and uniqueness of colors. Moreover, granite tiles' zero water absorption property has increased their utilization in kitchen and bathroom applications. These products are widely available in the dimension range of 1×1, 2×2, and others. Prominent suppliers in the market are engaged in offering custom designing and dimensions for flooring products.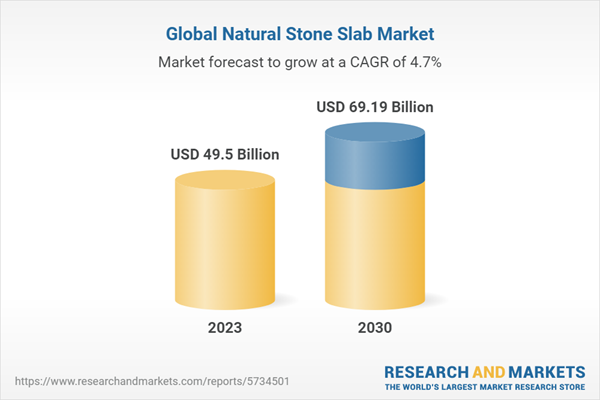 Increasing construction spending in emerging economies of Asia Pacific and the Middle East owing to the population expansion coupled with strong economic and industrial development is expected to positively affect the demand for natural stone slabs over the forecast period. Additionally, governments of emerging countries have provided a considerable amount of capital to invest in public infrastructures such as building hospitals, offices, and housing societies. The emergence of private-sector construction firms in China, India, and the UAE is expected to further contribute to construction spending over the coming years and thus support the market's growth.
Natural stone slabs are widely used in construction applications in residential and non-residential projects. Flooring, wall decoration, counters, and others are assembled with the help of natural stone slabs. However, the growing penetration of ceramic tiles, engineered wood sheets, panels, and others is expected to increase the market share of substitutes.
Key players in the natural stone slab industry are focusing on achieving optimal operational costs, enhancing product quality, maximizing production output, and acquisition of small players to sustain in the competitive market. Mergers & acquisitions, joint ventures, agreements, and other are being focused on by the players. Moreover, high investments in R&D for innovating natural stone slab products for kitchen application is also a factor considered by the natural stone slab players to stay in the competition.
Natural Stone Slab Market Report Highlights
The other product segment accounted for the highest share of 42.5% in 2022. As these products can be easily designed with endless patterns and in several color options, thereby offering a wide range of product varieties for the application industries
Granite slabs are frequently utilized in home structures for kitchen applications like countertops and corners. These slabs are also employed for partitioning purposes in commercial buildings. Due to the products' greater rigidity and endurance, they are now more prevalent in building applications, and given the expanding construction market, this trend is anticipated to continue. The market's granite slabs typically measure 9 to 10 feet long and 5 to 6 feet wide
There are many different sizes and thicknesses of limestone slabs. Depending on how it will be used in construction projects, the thickness varies. Additionally, the limestone slabs sold in the market often measure between 1500 and 1850 mm in length, making them easy to install across expansive flooring areas. Due to their widespread availability and simple maintenance, limestone slabs are becoming more popular
The travertine slabs market is expected to expand at a CAGR of 5.0% in terms of revenue during the forecasted years. The slabs are utilized for flooring in homes and businesses, swimming pools, fireplaces, and backsplashes in kitchens. Due to the rising demand for materials with a natural feel, these slabs are becoming more and more popular. These typically range from 20 to 50 mm thick, up to 67 inches wide, and 115 inches long
Innovators, market leaders, and emerging players characterize the competition in the global industry. The market has witnessed extensive competition on account of increasing innovations and growing demand for natural stone slab products. A large number of manufacturers are engaged in R&D activities to introduce sustainable flooring materials