Residential Construction Was Weak Last Year but Likely Hit Bottom
June 05, 2023 from Floor Focus FloorDaily News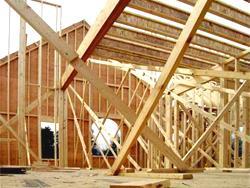 Charlotte, NC, June 5, 2023 – Residential new construction contracted significantly on the heels of the interest rate increases that hit mortgages in 2022, reports Truist.
"Single family starts finished the year down 10.8% and down 22.6% in 2H22. This was the worst performance since the financial crisis and abruptly ended the post-pandemic expansion.
"There has been some evidence, as mortgage rates retreated in Q1 2023 from their highs, that the market will be resilient. This is particularly true for the new home market when considering that the currently low supply of existing homes will not accommodate a notable increase in demand.
"Many builders have been communicating positive sentiment regarding the back half of the year on this topic. Note the materials producers may still see some negative impact flow through the pipeline if demand does not hold to expectations and backlogs are dwindled. Barring significant unforeseen consequences related to the recent regional banking turmoil, the housing market is nearing a bottom, if not already there, and looking to turn to recovery, in our view. This narrative is supported by permit activity.
"All regions appeared to show their most aggressive year over year declines for permits issued in either December 2022 or January 2023. We observed sequential year over year improvement in each month of Q1 2023 in all four recognized regions, though all regions are still down significantly year over year. Single family permits begin running into easier comps in Q2 2023."