Renovation and Remodeling
Four Must-Knows Before Converting Tubs to Showers
June 13, 2022 from TalkFloor
Tub-to-shower conversions have become the standard when remodeling or renovating residential or multifamily bathrooms; as a matter of fact, home and building owners can't get rid of old bathtubs fast enough.
Bathrooms are getting more spacious, and shower footprints are increasing. There are several reasons why owners are opting to replace tubs with larger walk-in showers. Many of these factors are in line with growing residential design trends including luxurious design, increased accessibility, and easier maintenance.
However, finding a cost-effective and efficient way to convert bathtubs to showers remains an all-too-common challenge for building contractors.
The key is to find a product that has on-site, versatile components that will adapt to nearly any shower enclosure's size and conditions. The QuickDrain linear drain, for example, contains site sizable trough extension to provide coverage from finished surface to finished surface. Multiple waterproofing options, on-site adjustable pre-sloped PET (polyethylene terephthalate) plastic foam shower panels, and numerous design-matched drain cover options.
Below we share four must-know tips when planning to convert tubs to showers.
1. Overcoming challenging site conditions
More often than not, when you demo out a tub, you will run into different plumbing and fixture layout conditions in practically every bathroom. Rarely will the tub you take out have a space that is exactly 30 by 60 inches, as it says on the construction plans.
Find a solution that would allow you to adapt to unexpected plumbing rough-in configurations and various shower enclosure sizes. Opt for a tile-ready and site-sizable pan to contend with any rough-in configuration.
QuickDrain linear drain bodies accommodate challenging changes in height (via stackable leveling spacers), in width (via drain trough extensions), and outlet configuration (via horizontal or vertical waste in 1 and a ½" and 2" connections.) The drain trough extensions enable installers to move the drain body side-to-side to avoid any site-obstructions, while still providing wall-to-wall coverage recommended for efficient drainage.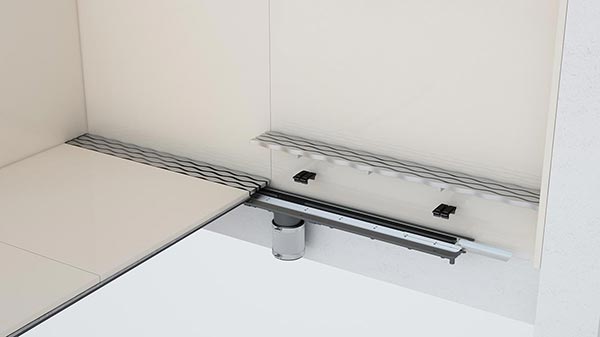 2. Saving time
If you were to lay a mortar bed while tiling a shower, you would have to let it cure, install the waterproofing and then finally come back the next day to perform the code required flood test — taking up to three days to complete a shower.
To save time, opt for a system that includes a pre-sloped shower pan and topical sheet or liquid waterproofing accessories. A pre-sloped pan will eliminate the inevitable human error involved with floating a mortar bed.
Pre-sloped PET shower pan systems accommodate finished shower dimensions between 32 inches to 72 inches, with an interlocking design that can be quickly and easily modified to any size or shape directly onsite.
Unlike conventional, pitched mud beds constructed over two days due to the multiple layers of mortar, PET shower pans can complete a pan installation and be ready for tile in less than one day.
3. Addressing off-center drains
Frequently, when removing older tubs, the drains are set at different positions and often off-center. However, jack-hammering or core-drilling through the concrete to adjust drain positioning is usually not an option for multi-story buildings with structural flooring constraints.   Since many buildings are constructed with post-tensioned slabs, core drilling could compromise the building's integrity.
It's also usually too costly for the average homeowner to relocate a drain; however, a linear drain with a side-waste outlet can connect to the drain line without moving the plumbing. The versatility of the linear drain system allows for both vertical and side waste outlet configuration options. It will accommodate an outlet that is not perfectly centered by using trough extensions.
Aesthetically, an off-center outlet will not be an issue once the one-piece cover spans the entire width of the shower concealing the fact the outlet was not perfectly centered.
4. Keeping up with the latest design trends
When remodeling residential bathrooms, the ultimate goal is to create modern, luxurious, spa-like spaces.
One of the biggest trends of 2020 and 2021 — and one that is sticking around in 2022 — is rose gold and matte black finishes for fixtures and shower drains. These finishes made a big comeback in 2020 and have taken a new direction, adding a luxurious look to showers. QuickDrain offers a range of linear and square drain covers in various finishes, including brushed stainless steel, matte black, rose gold and oil rubbed bronze.
From modern designs to shabby chic trends, a drain can take a bathroom design to the next level. QuickDrain's decorative drain covers can match trending styles, including contemporary design, mid-century modern, modern farmhouse and industrial.
A wall-to-wall linear drain, from a design perspective, maximizes drainage and offers a clean look that enhances the shower experience.
In addition, with a linear drain, you aren't handcuffed to certain tile sizes that best work with a center-point drain that slopes in all directions. In sharp contrast, linear drains open up new tile opportunities, especially large-format tile or even mosaic tile sheets.
A cost-effective, efficient and versatile shower solution like QuickDrain's linear drain system helps contractors adapt to common jobsite irregularities — unexpected plumbing configurations and structural constraints — when converting conventional tubs into spa-like, curbless or curbed shower retreats.