May 25, 2023 from Ceramic Central Montly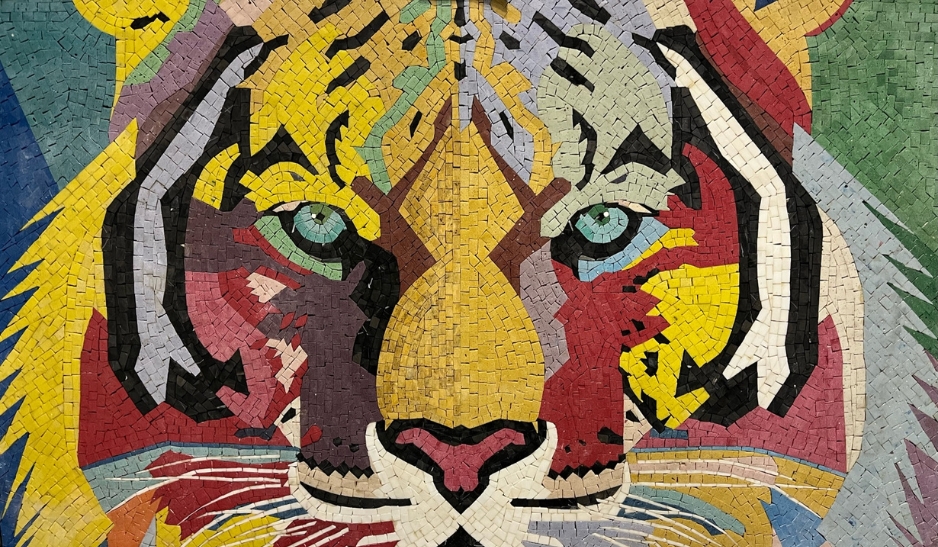 Every year brings new opportunities to attend the astonishing trade shows and other inspiring events, but there's no North American extravaganza quite like Coverings.
In 2023, this must-attend event brought together over 1,000 exhibitors from all around the world – and we were once again excited to join the fun.
There has often been an element of the expected in the past with porcelains having dominated the show for so long. This spring, the styles we saw were wonderfully creative, different and out-of-the-box.
During our latest Coverings adventure, we were dazzled by gorgeous mosaics, tantalizing textures and so much more. Below, we've touched on some of the product trends from 2023 that both inspired and delighted us.
WOW Factor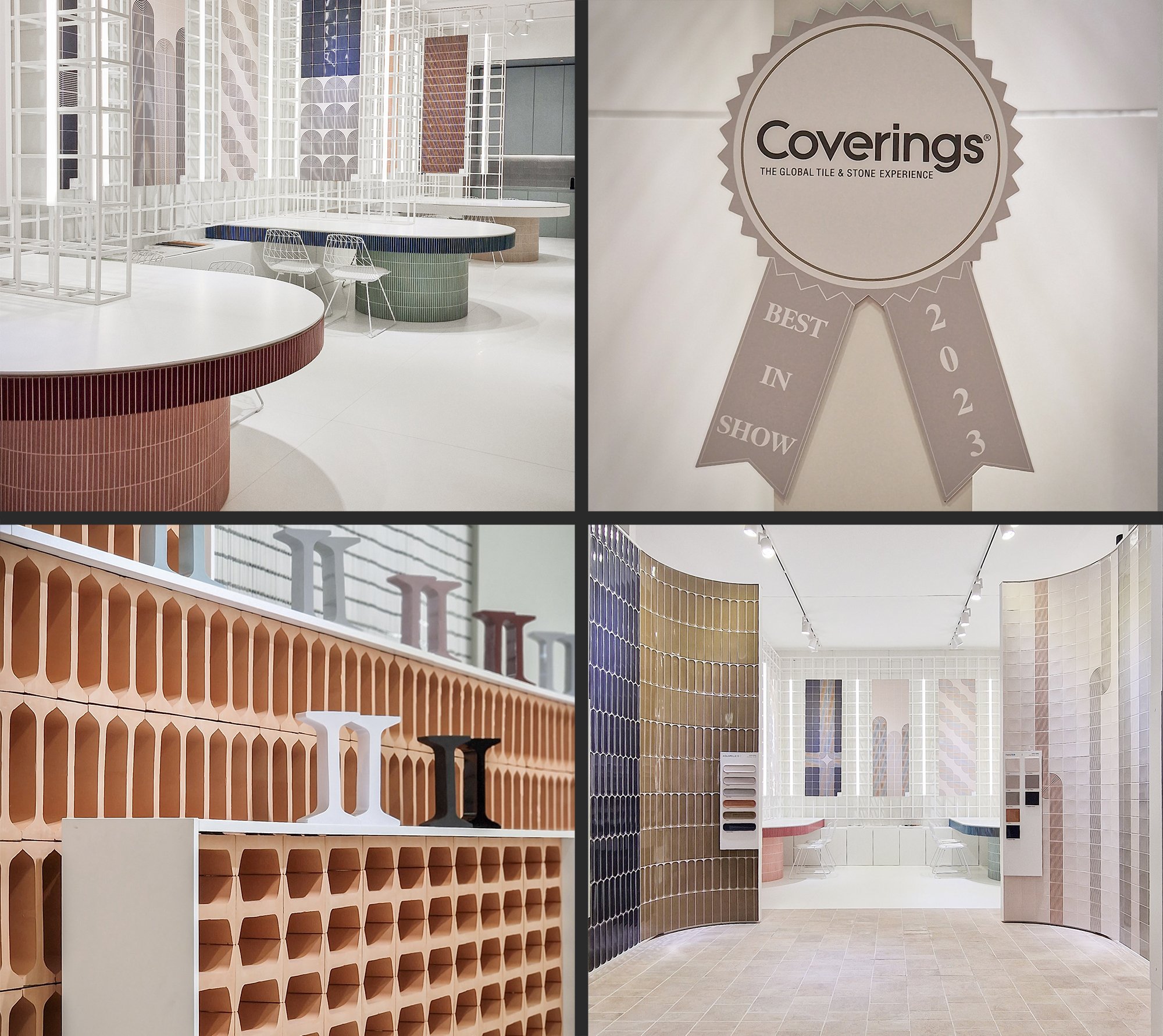 Appropriately named, WOW Design, earned major praise, and it's no secret why: the studio demonstrated originality in every detail, ditching walls in favor of stunning beaded curtains. Add gorgeous, rectangular tiles to the mix and it's easy to see why WOW took home the award for best booth.
Styles and Themes
Variety was the name of the game for Coverings 2023, with a myriad of materials and aesthetics revealing that any style imaginable can elevate today's most spectacular spaces – and at a variety of price points. We were impressed by the myriad of styles on display but did note a few key trends:
Fresh Mosaics
We always appreciate intricate mosaics, so we were excited to see new takes on this classic style at Coverings. Backlit mosaic panels were easily the most memorable, although we also adored how some tiles applied the encaustic look to stone using mosaic format. Another emerging trend? Microdot mosaics, which bring a decidedly dynamic appeal to any space. From mosaic porcelains to intricate zellige mosaics, the inspiration was endless.
Moroccan Theme
Speaking of mosaics…we were impressed by all the Moroccan offerings on display. Many of these included revitalized takes on familiar patterns. Margot enjoyed a moment of nostalgia, prompted by hand-painted and hand-pressed tiles reminiscent of her favorites from the 80s. Still, they had a fresh feel, proving that any classic design can always be revitalized.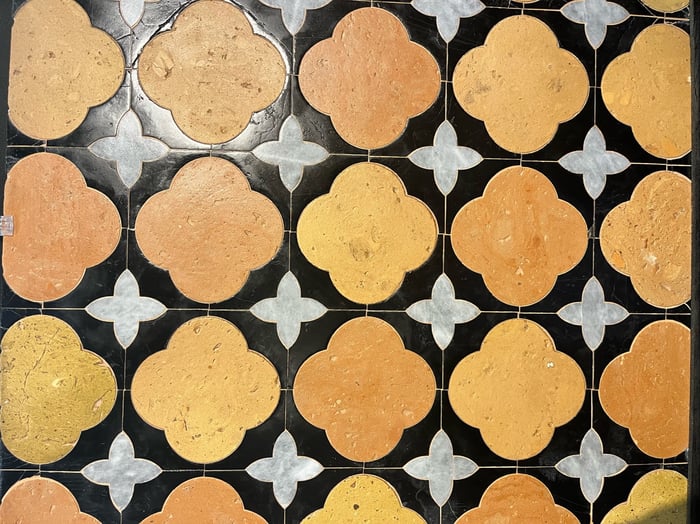 Pattern and Color
From botanicals to contemporary pops of color, the show this year was more vibrant than ever! As demonstrated at the WOW booth, colorful patterned ceramic tile was a hit this year. Post mod patterns in mix + match pieces and monochrome color schemes are certainly trends to look out for this year. Another interior design style to watch? All green everything! This color has been a fan favorite of late and it is here to stay.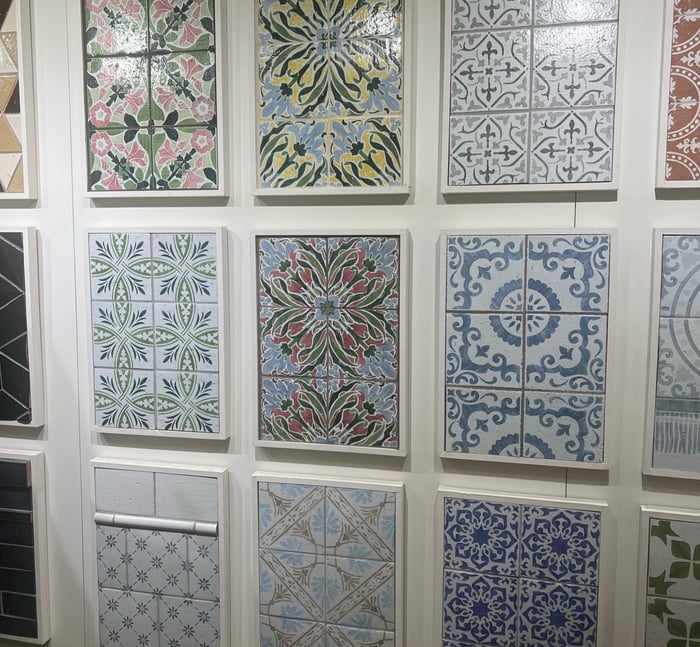 Product Highlights
Botanicus Collection
Continuing the biophilic trend that has dominated interior design these last several years, botanicals are clearly a big deal in 2023. They made a splash at Salone pre-pandemic and now appear to have crossed the pond in a big way. We are always enthusiastic about opportunities to bring natural beauty indoors, so we were glad to see trendy (and soothing) shades featured prominently.
Examples of botanical beauty were abundant throughout the event, but we were especially excited about a thematic collaboration between two of the most impressive names in tile design: AKDO and Allison Eden. They worked together to create the mesmerizing Botanicus line – available Summer 2023 through Decorative Materials.
Featuring hand-cut glass mosaics with lovely leaves and flowers, these signature tiles highlight everything we've long appreciated about Allison Eden's work: her attention to detail, love of all things glimmering, and her clear effort to turn any surface into a genuine work of art.
Celerie Kemble Collection
Another big name to gain even more recognition at Coverings? Celerie Kemble, who has been hugely influential in the tile industry for decades. She's teamed up with the cement tile authority Sabine Hill to create a line named after her must-read title: Island Whimsy.
Whimsical is certainly the right adjective for Celerie Kemble's collection, which forms the basis of a new and refreshing direction for cement tile. These designs may be chock full of personality, but they are also highly practical. There's no better way to integrate a dose of signature Palm Beach style.
Dynamic Tiles Take Over
Coverings always provides valuable takeaways, but this year, the event and its participants went above and beyond. Margot commented, "Best show in 6 years. I honestly feel like finally our artists and vendors are embracing the ceramic and hand cut stones that are designed with elegance, color and very thoughtful designs that are classic."
From the gold veining of kintsugi tile to the classic appeal of Spanish ceramics, there's a lot to love about the top tile product trends for 2023, as featured at Coverings. Here's to an even more dynamic 2024!
If you're ready to integrate bold designs into kitchen floor tiles, backsplash, or even outdoor environments, we're here to help. Get in touch to discuss your ideas or set up an appointment at one of our showrooms to find a wealth of inspiration firsthand.