TISE 2023 Attendance Up 67% Over 2022 Event
March 02, 2023 from Floor Focus FloorDaily News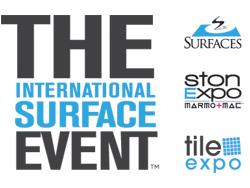 Dallas, TX, March 2, 2023 – The International Surface Event (TISE): Surfaces | StonExpo | TileExpo, held on Las Vegas January 31 to February 2, experienced a 67% increase in attendance over the 2022 event with double-digit increases again over events going as far back as before 2019.
Last year, attendance was down approximately 50% from pre-pandemic levels. Attendance, as measured by Informa, includes everybody who walks in the door: exhibitors and attendees. This year, the numbers were boosted by a downturn in Covid infections, growth within the market in the last two years and crossover attendance from design week events, including the International Builder Show, the National Hardware Show, the Kitchen & Bath Show and the Las Vegas Market.
On the second day of the show, John Rietveldt, CEO of I4F, reported, "Yesterday was very busy. We had lots of planned appointments and lots of people walking through interested in our technologies."
TISE's exhibit hall featured almost 600 exhibiting companies.
Related Topics: The International Surface Event (TISE)