Tile looks to expand competitive edge
Monday, January 13, 2020 from Floor Covering Weekly
The tile industry saw a 2.1 percent increase in 2019, totaling $3.9 billion in sales according to Catalina Research. While growth was in the low single digits, Catalina noted that ceramic tile was the only flooring category outside of resilient to gain share in 2019. This year, the tile industry is looking to raise its competitive edge by expanding into new spaces such as kitchen and bath and exteriors.
Putting a plan in motion
Tile suppliers are thinking of the new year as a fresh start with strategies to invest and create a multitude of new products.
"We are entering 2020 strong, with a myriad of new products (ranging from mosaics to large slabs)," said Gianni Mattioli, executive vice president, Dal-Tile Corporation. He added that Dal-Tile will also focus on "investments to better service our customers, and robust websites and social media programs."
Additionally, Mattioli said technology will spearhead future developments. "Dal-Tile Corporation will continue to make the appropriate investments in key technologies and in our manufacturing capabilities to ensure that our Daltile, Marazzi, American Olean and Ragno brands maintain their leadership positions as fashion-based product lines," he said.
There's no doubt that product innovation will be a major driver this year. "It all starts with products," offered Raj Shah, president of MSI. "You have to have products that are on trend and that the ultimate consumer wants. I believe we have never had a stronger portfolio of products in our history. Along with great products comes great retail partners who make the products accessible for the consumer."
Florida Tile will use its 2019 success to guide 2020 endeavors. In addition, Mike Vail, vice president of branch division, said, "We are also investing in our commercial segment strategy and building our team of commercial sales professionals."
Emser Tile will continue to highlight tile's design strengths this year. "We are constantly surveying the market for opportunities and areas of growth in our category," remarked Mara Villanueva Heras, Emser's vice president of marketing. "In the last year alone, we have expanded our offering in areas such as wall and outdoor living while expanding our footprint in growth markets such as kitchen and bath and manufactured housing."
Not your typical tile
Companies are using the newest technology to highlight tile's endless design possibilities, which include new shapes and sizes.
"Wall tile and large format porcelain panels have been growth areas for the category over the past couple years, while porcelain slabs represent a new growth area going forward," said Greg Mather, president of Crossville. "In 2020, we will introduce new products and solutions that drive growth of our wall tile, porcelain panel and slab products. We will also be educating the marketplace on the benefits of tile versus luxury vinyl tile (LVT) to ensure specifiers are making informed decisions on the material best suited for their specific needs."
Larger formats have gained popularity in the last few years, and the trend shows no sign of slowing down. According to the most recent trend report from Catalina Research, large format tile panels are an "important innovation in the ceramic tile market. These porcelain tile panels allow ceramic tile manufacturers to offer slabs up to 5 x 10 feet that can be installed in a wider array of applications such as countertops." This increases the number of spaces in which tile can be installed and can ultimately increase tile's overall square footage sale.
Gauged porcelain tiles in particular have become more and more prevalent in the market. The product offers a realistic natural stone visual for a competitive price, as well as thickness that promises extreme durability. Plus, advancements in digital printing offer end-users the chance to create custom visuals for one-of-a-kind designs.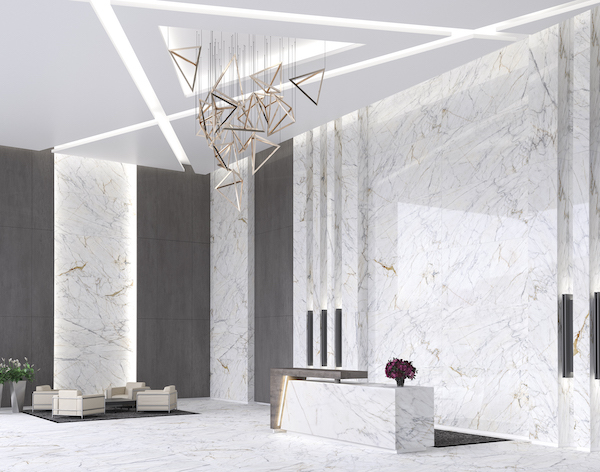 Large formats will be seen throughout residential and commercial spaces this year, much like Daltile's Panoramic Porcelain Surfaces, shown here.

Tariffs top of mind
In 2019, tile suppliers focused on imports from other countries to combat potential losses from tariffs on products from China. That will be the plan going into 2020 as well.
"The tariffs that hit our industry in 2019 were disappointing," offered Emser's Heras. "Thankfully, our global diversification strategy has enabled us to shift manufacturing, early and quickly, where necessary to minimize disruption and overall impact to our customers. We have used this opportunity to freshen our assortments and introduce some amazing new products that will help fuel the heavy demand for the category in 2020."
However, Dal-Tile's Mattioli predicted that 2020 will be a more "normal" year. "However, the overall impact is very difficult to define at this point," he added.
"Tariffs always have an effect on an industry," explained Shah. "It will definitely take time for the waves caused by the sudden changes to settle down. There has been huge change in supply chains and product availability."
But Shah assured there are ways to ease tariff concerns. "Ultimately, innovation and adaptability are the best weapons against sudden tariffs. As an industry we need to keep innovating and bringing great products to the market while inspiring consumers to install them," he said.